Flat Rock & Monroe MI Certified Public Accountants
Need bookkeeping, tax preparation, payroll processing or business start-up consulting? Call today in Flat Rock MI at 734-782-8917 or in Monroe MI at 734-242-1935!
Looking for a professional CPA in Southeast Michigan?
Steinert & Associates in Flat Rock and Monroe MI is a Certified Public Accountant serving Southeast Michigan. We offer a blend, a mixture of personal service and expertise. We have over 20 years of knowledge and experience to provide you with guidance in all of your financial and taxation needs and to your success.
We pride ourselves on being part of your team, whether if it is an individual income tax return or complicated financial statement, we use our experience to accomplish the task with results. We understand the need for timely and accurate responses to your questions, concerns, and more.
Services Include: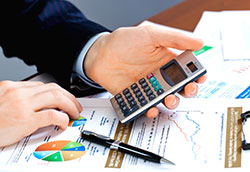 The common question is, "What is a CPA?"
A Certified Public Accountant ("CPA") is an accountant; not all accountants are CPAs. A CPA is an accountant licensed to practice public accounting, who must take and pass a national test issued by the American Institute of Certified Public Accountants. Accountants that are not CPAs are not allowed to perform certain services. CPA's are licensed professional accountants that must maintain a high standard of conduct.
When you engage Steinert & Associates, you should expect:
Timely, accurate and professional results
A clear understanding of your business/industry
Quick response to your questions and concerns
Practical solutions for growth and wealth preservation
Face-to-face planning and strategy meetings
Up-to-date tax law information
Professional Associations and Affiliations
American Institute of Public Accountants
Michigan Association of Public Accountants
MACPA Small Business Task Force
National Association of Enrolled Agents
Southern Wayne County Regional Chamber
Michigan Chapter of Enrolled Agents
Industries Served
The needs and goals of your business are unique. Steinert & Associates recognizes that fact and works to deliver the best practices that will meet your particular needs. We've never employed a "one size fits all" approach to accounting services, and our clients have come to trust the specific insights and ideas that come from deep experience with virtually every business sector.
Contractors/Construction
Retail/Wholesale
Professional Service
Not-For-Profit
Manufacturing
Personal Service
Franchisor/Franchisee
Retail Automotive
Restaurant
Our mission is to provide our clients with quality accounting, tax, auditing, and management advisory services concurrent to their individual needs. The underlying principles of professionalism, responsiveness, and quality along with our view with every client relationship as a joint venture/partnership are the keys to our client's success.
Our commitment to providing close, personal, attention to our clients to investing time and resources in professional continuing education, state-of-art computer technology, and extensive business relationships.
---
Jasen G. Steinert, CPA, CGMA
Certified Public Accountant
Chartered Global Management Accountant
Jasen has over 30 years of experience, primarily in areas of accounting and taxation (including multi-state). He is a member of the American Institute of Certified Public Accountants (AICPA) and Michigan Association of Certified Public Accountants (MICPA). His work experience over the 30 years is in accounting and taxation (and multi-state) for contractors, builders and other service type clients.
He graduated from Sienna Heights College with a Bachelor of Business Administration and has been a long time resident of the downriver community area of Wayne County.
Call Steinert & Associates in Flat Rock MI at 734-782-8917 or Monroe MI at 734-242-1935!